VCT APAC Last Chance Qualifier: Since Masters Copenhagen is finally over, only one more spot from APAC will be up for grabs because Paper Rex and XERXIA have already qualified for this year's VALORANT Champions. Here is all the information you need to know about the Last Chance Qualifier (LCQ), which will be the APAC teams' final opportunity to qualify. Bleed eSports and Team Secret, two teams that came very close to qualifying for Masters tournaments this year but fell short against Paper Rex and XERXIA Esports, are the two favorites in the competition.
Five regions: North America, EMEA, Asia-Pacific (APAC), East Asia (Japan, Korea, China), and South America will each host one Last Chance Qualifier (LCQ) event. To the Valorous Champions 2022, each region will send one team, with the exception of the South American LCQs, who will send two teams.
VCT APAC LCQ QUALIFIED TEAMS
A grand total of 10 teams from APAC have accumulated enough Circuit Points across the VALORANT Champions Tour 2022 and thus qualified for the APAC LCQ. Here are the qualified teams as follows:
Bleed Esports (Singapore)
ONIC Esports (Indonesia)
BOOM Esports (Indonesia)
Made in Thailand (Thailand)
Team Secret (Philippines)
Fancy United Esports (Vietnam)
Griffin Esports (Hong Kong / Taiwan)
CERBERUS Esports (Vietnam)
Alter Ego (Indonesia)
ORDER (Oceania)
FORMAT AND SCHEDULE:
Set featured image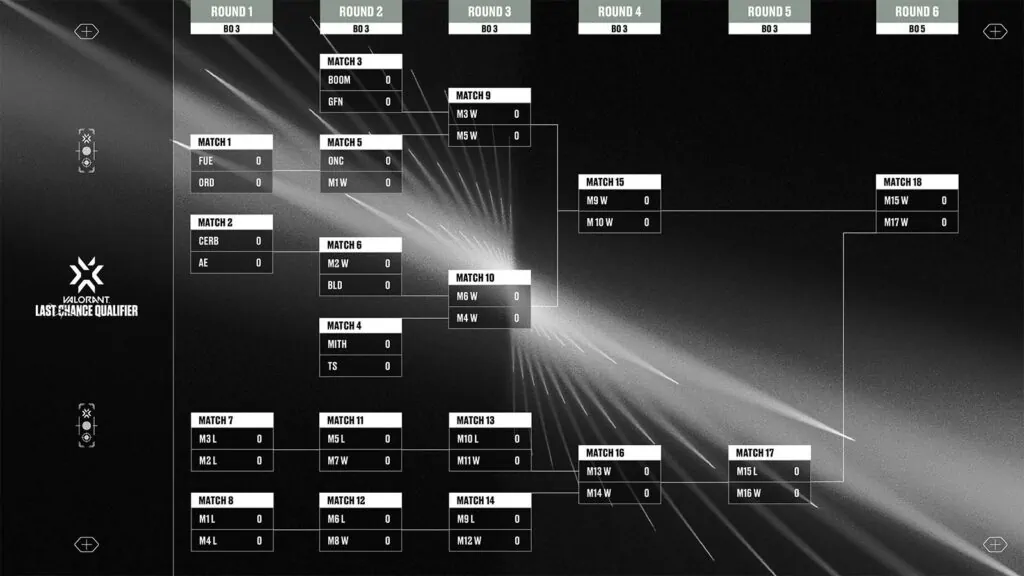 Here are the 10 teams who have qualified and confirmed their attendance at the VCT APAC LCQ, which gets underway on August 1. The winning squad will earn a spot in September's Valorous Champions in Istanbul. Starting with the first round of the upper bracket, teams in the competition will compete in a double-elimination bracket. The second round of the upper bracket quarterfinals was a bye for the top six seeded teams. Except for the championship game, which will be a best-of-five series, all matches will be best-of-three affairs.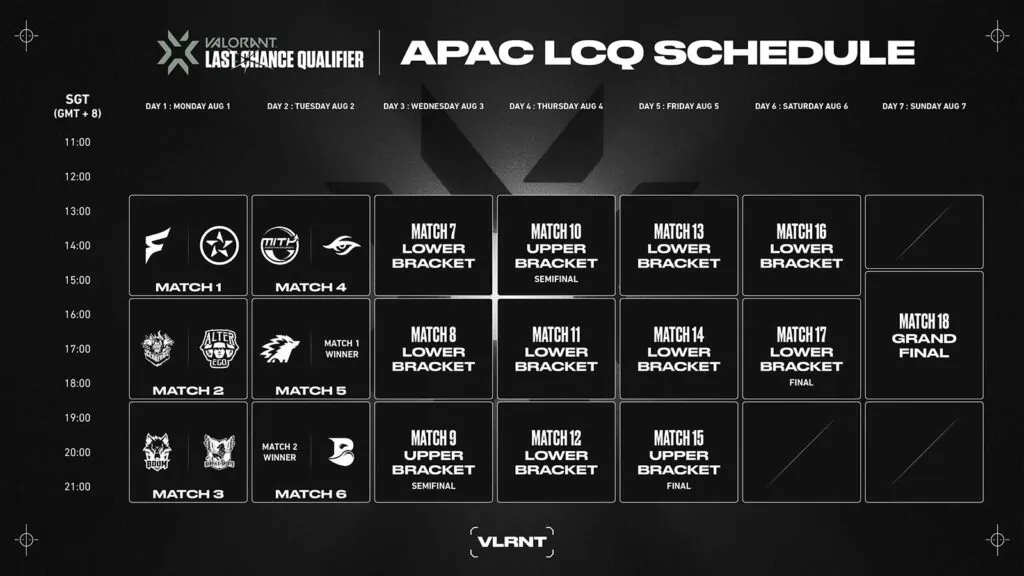 WHERE TO WATCH:
The Valorant Champions Tour's YouTube and Twitch feeds will start live streaming all of the matches in the VCT APAC Last Chance Qualifier at the scheduled time.
Read More: 'CS: GO difficulty seems like a joke if compared to Valorant' says Sentinel's newest star Shroud