After months of speculations and rumours, Riot Games have finally announced Valorant Champions Tour 2023 teams. These franchised teams will have the opportunity to participate in unique events that are only open to associated teams. In March 2023, the first international split will begin, featuring some of the top Valorant esports teams. Riot had to make difficult decisions regarding which organisations would advance because there were only 10 teams in each league that's why big names like Optic gaming and G2 were denied from Valorant Franchising but the South Asian valorant Ecosystem seems to got new breath as Global Esports from India made to VCT 2023 franchising.
TSM, OPTIC, G2, XERXIA, Crazy Racoon DIDN'T Make it to VCT 2023 ToP 30 Teams
The list of partner teams for VALORANT has undergone a last-minute modification according to Riot Games. Last-minute cancellation prevented G2 Esports from joining the Americas league. One of the biggest surprises is the report that collaboration has been rejected with Champions 2022 runner-up OpTic. The most dominant team from APAC, XERXIA, too fell short of the finish line.
HERE ARE THE TOP 30 TEAMS FOR VCT 2023
Riot Games will launch three new VALORANT International Leagues with ten partnered teams each in 2023. These leagues will compete at the highest level possible within the VCT. They started a thorough selection procedure to pick the partners for each league earlier this year. They have now identified the 30 teams and are certain that they will make good partners.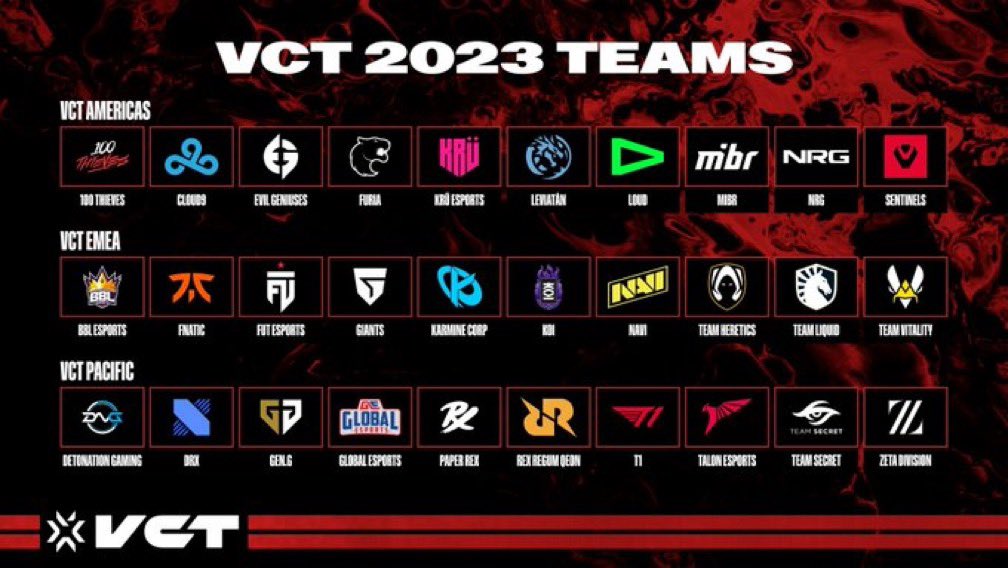 VCT 2023 Teams: Americas
100 Thieves
Cloud9
Evil Geniuses
Furia
KRU Esports
Leviatan
LOUD
MIBR
NRG
Sentinels
---
EMEA
BBL Esports
Fnatic
FUT Esports
Giants
Karmine Corp
KOI
NAVI
Team Heretics
Team Liquid
Team Vitality
---
Pacific
Detonation Gaming
DRX
Gen.G
Global Esports
Paper Rex
Rex Regum Qeon
T1
Talon Esports
Team Secret
Zeta Division
GLOBAL ESPORTS GOT VCT 2023 SLOT
This was probably one of the most anticipated announcements for all South Asian fans. Global Esports is one of the most dominant teams from South Asia Valorant esports and proved it many times by representing 3 times on the APAC stage. But having only great achievements on the FPS stage doesn't guarantee you a slot but Riot themselves mentioned that the selection spanned months, including a written application, in-depth interviews, and financial reviews.
There will be a chance for those teams that didn't make it to play their way in. For the upcoming several years, each region will receive one new team. The way to the top is undoubtedly open, even though it is undoubtedly not an easy round and the Tier 2 circuit will include some rather tough matchups.
Read More: DOTA 2 The International 11: Celebrate TI11 and help your favorite teams through new 2022 Battle Pass features