VCT 2023 LOCK//IN: Format, Schedule, Teams, and stream: For the first season Valorant VCT Lock/in the event beginning next month, the matchups and schedule have been released. The 30 partner teams from the EMEA, Pacific, and Americas leagues, together with two Chinese invited teams, will compete in the inaugural VCT LOCK/IN Brazil tournament of the 2023 Valorant Champions Tour. The largest Valorous event ever held by Riot Games and the first look at the teams that are a part of this new epoch in esports will take place there.
It's time to lock in for the first international event of the #VCT 2023 season! 🔒

Here's everything you need to know about LOCK//IN Brazil. pic.twitter.com/11hMbHMYFr

— VALORANT Champions Tour (@ValorantEsports) January 17, 2023
The prize fund for the competition has not yet been revealed by Riot Games. Fans can anticipate a lavish check for the victors of the VCT LOCK/IN since it features 32 of the best Valorant rosters in the globe. The only season with the LOCK/IN tournament will be VCT 2023. The LOCK/IN will be replaced with a full split of the three separate Valorant Franchise Leagues in upcoming seasons of the Valorant Champions Tour.
Valorant VCT LOCK//IN Teams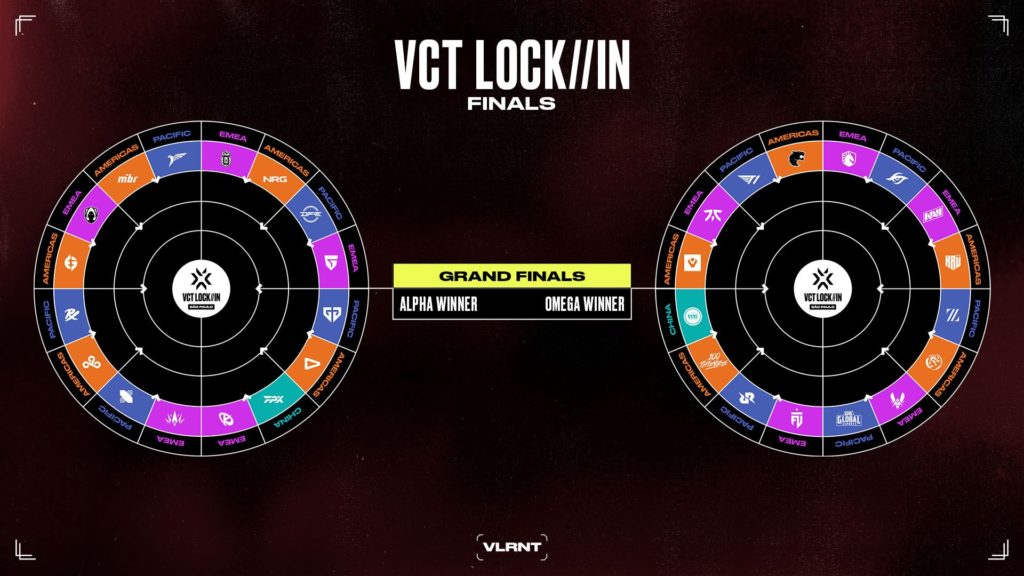 Group Alpha
KOI (EMEA)
NRG (Americas)
DetonatioN FocusMe (Pacific)
Giants Gaming (EMEA)
Gen.G (Pacific)
LOUD (Americas)
FunPlus Phoenix (China)
Karmine Corp (EMEA)
BBL Esports (EMEA)
DRX (Pacific)
Cloud9 (Americas)
Paper Rex (Pacific)
Team Heretics (EMEA)
Evil Geniuses (Americas)
MIBR (Americas)
Talon Esports (Pacific)
Group Omega
Team Liquid (EMEA)
Team Secret (Pacific)
Natus Vincere (EMEA)
KRU Esports (Americas)
ZETA DIVISION (Pacific)
Leviatan (Americas)
Team Vitality (EMEA)
Global Esports (Pacific)
FUT Esports (EMEA)
Rex Regum Qeon (Pacific)
100 Thieves (Americas)
EDward Gaming
Sentinels (Americas)
Fnatic (EMEA)
T1 (Pacific)
FURIA (Americas)
Valorant VCT LOCK//IN Sao Paulo Format and Schdeule
Two sets of sixteen teams each will compete in the three-week VCT LOCK/IN competition in Sao Paulo, Brazil from February 13 to March 4. To accommodate the number of participating teams, the competition will be conducted in a single-elimination format.
Riot divided the schedule into two halves. Within a week, the Alpha side will continue to compete until only two teams remain. The winners of Alpha will then take a respite for more than a week before Omega gets their chance.
The event will be completed on the weekend of March 2-4 with the Semifinals and Grand Finals. In just under 20 days overall, 31 teams will be eliminated, resulting in the first-ever partner-only VCT champion.
Where to Watch VCT LOCK//IN 2023
Riot Games will stream VCT LOCK/IN Brazil live on their Twitch and YouTube platforms. For your convenience, we have integrated the Twitch broadcast below. On all days of the VCT LOCK/IN Brazil games, there will also be spectators in the stands. Starting on December 13, tickets for the concert will be available for purchase worldwide on Ticket360, with prices ranging from $16.79 to $27.99.
Read More: PUBG Mobile Month 20 Royale Pass: Leaked rewards, price, theme, and more, ALL DETAILS