VALORANT India Invitational by Galaxy Racer Day 1 Overview: Day 1 of the Galaxy Racer VALORANT India Invitational, which will be held in Hyderabad, India from November 18 to 20, has now been completed. Five invited teams and three qualified teams will compete in the event in a round-robin stage across two best-of-one groups, with the top four teams moving on to the semifinals. The winning team of the tournament will be awarded USD 50,000, half of the total prize pool.
Valorant India Invitational 2022 DAY 1 RESULTS AND OVERALL STANDINGS:
Following were the standings of group A after 6 intense matches in Bo1 format, Team Heretics and Team Secret have successfully qualified for playoffs. Meanwhile, RRQ and Enigma gaming get out of the race.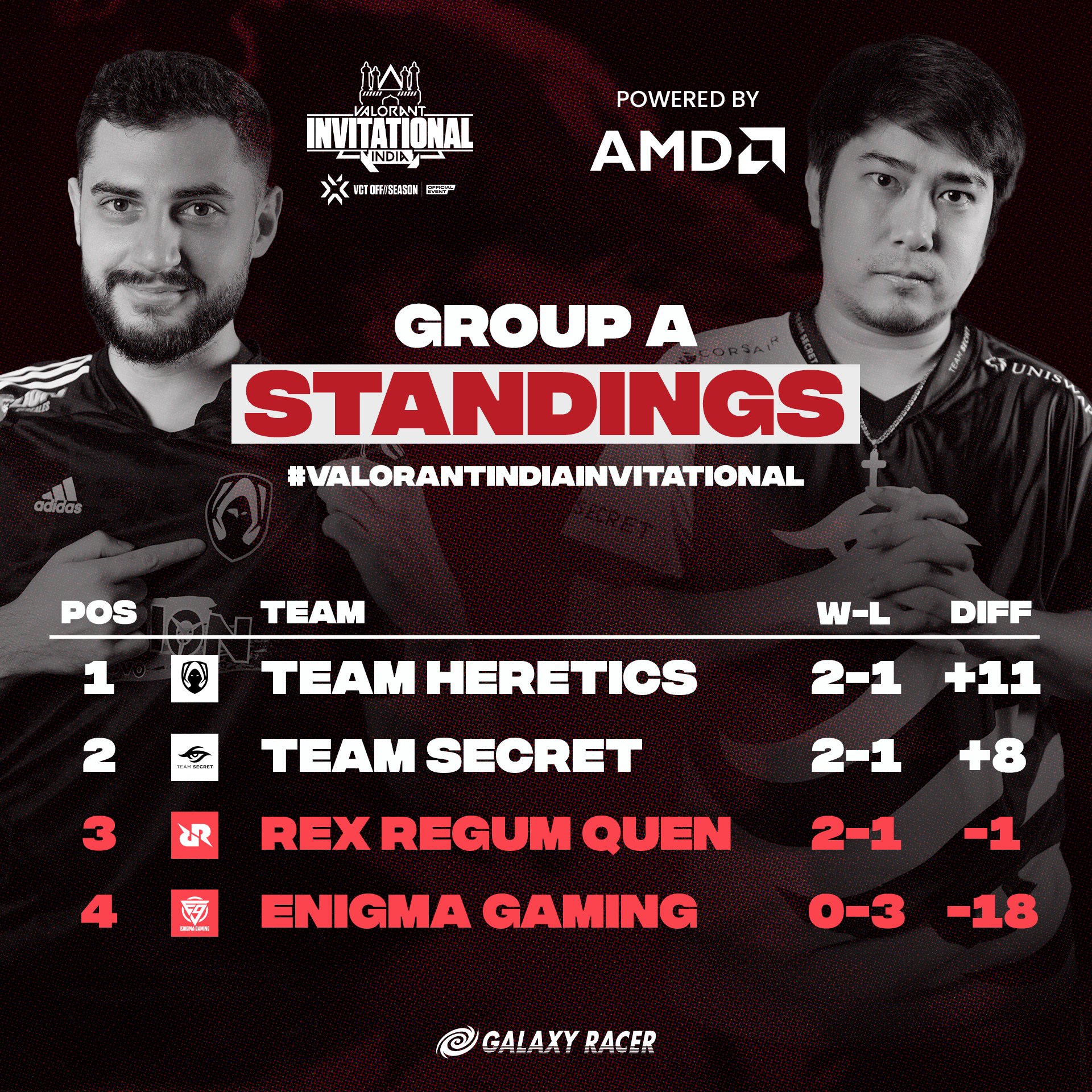 GROUP B:
Group B has only played a total of 2 matches hence this section is still open for fierce competition for playoffs. Bleed Esports leading the day with a comfortable win over APAC #1 paper rex. The top two teams from each group will advance to the playoff stage, where they'll play in a single-elimination bracket towards a $50,000 USD win. All matches in the group stage will be Bo1.
GALAXY RACER VALORANT INVITATIONAL DAY 2 SCHEDULE:
6:00 AM CEST | 9:30 AM IST | 12:00 PM SGT – Group B: BOOM Esports vs. Paper Rex
7:30 AM CEST | 11:00 AM IST | 13:30 PM SGT – Group B: BOOM Esports vs. BLEED
9:00 AM CEST | 12:30 PM IST | 15:00 PM SGT – Group B: God Squad vs. BLEED
10:30 AM CEST | 14:00 PM IST | 16:30 PM SGT – Group B: God Squad vs. BOOM Esports
WHERE TO WATCH:
Day 2 matches will be live on Saturday, with four more Group Stage matches in the afternoon, and two Playoffs matches in the evening. Followers can officially watch live streaming on the official social media handles of galaxy Racer, also on twitch.
Read More: Galaxy Racer partners with AMD for Valorant India Invitational, CHECK DETAILS