Following the success of Skyesports Souvenir Mumbai 2022, the first Valorant LAN event to be held in India, the organizers have launched Skyesports Champions Series, one of the most important regional tournaments of the 2022 competitive season (SCS). This tournament is sponsored by Riot Games and is part of the ongoing VCT 2022 Stage 2 Challengers, featuring some of the best teams from throughout South Asia competing for a spot in the VCT 2022: APAC (Asia Pacific) Stage 2 Challengers. From the 19th through the 5th of June, a total of 12 Valorant teams will compete in this tournament, which will feature two APAC Challengers places and a total prize fund of $30,000 USD (INR 23,29,575). SCS Playoffs Day 1 Skyesports Championship Series Playoffs 
PARTICIPATING TEAMS:
The SCS Group Stage included a total of twelve teams, divided into two groups of six teams each. Teams competed against each other in their respective groups, with the top three teams from each group qualifying for the Playoffs. Teams from India, Pakistan, Afghanistan, Nepal, Bhutan, Sri Lanka, the Maldives, and Bangladesh will compete in the competition, which will be split into two stages and will be played both online and offline.
Enigma Gaming
Global Esports
Revenant
Orangutan Gaming
Velocity Gaming
Full Power Gaming
SCS PLAYOFFS DAY 1 SCHEDULE AND FORMAT:
Playoffs will begin on May 31, 2022, It will be a LAN event with a small live audience, and it will take place in Chennai. A double-elimination format will be used to match the six eligible teams. In the second round, Enigma Gaming and Orangutan Gaming will begin their journeys. On June 5, 2022, the tournament will come to a close. Skyesports Championship Series Playoffs 
Day 1
Velocity Gaming vs Revenant Esports – Upper Bracket Round 1 – 31 May 2022 (5:30 PM IST)
Global Esports vs Full Power Gaming – Upper Bracket Round 1 – 31 May 2022 (8:30 PM IST)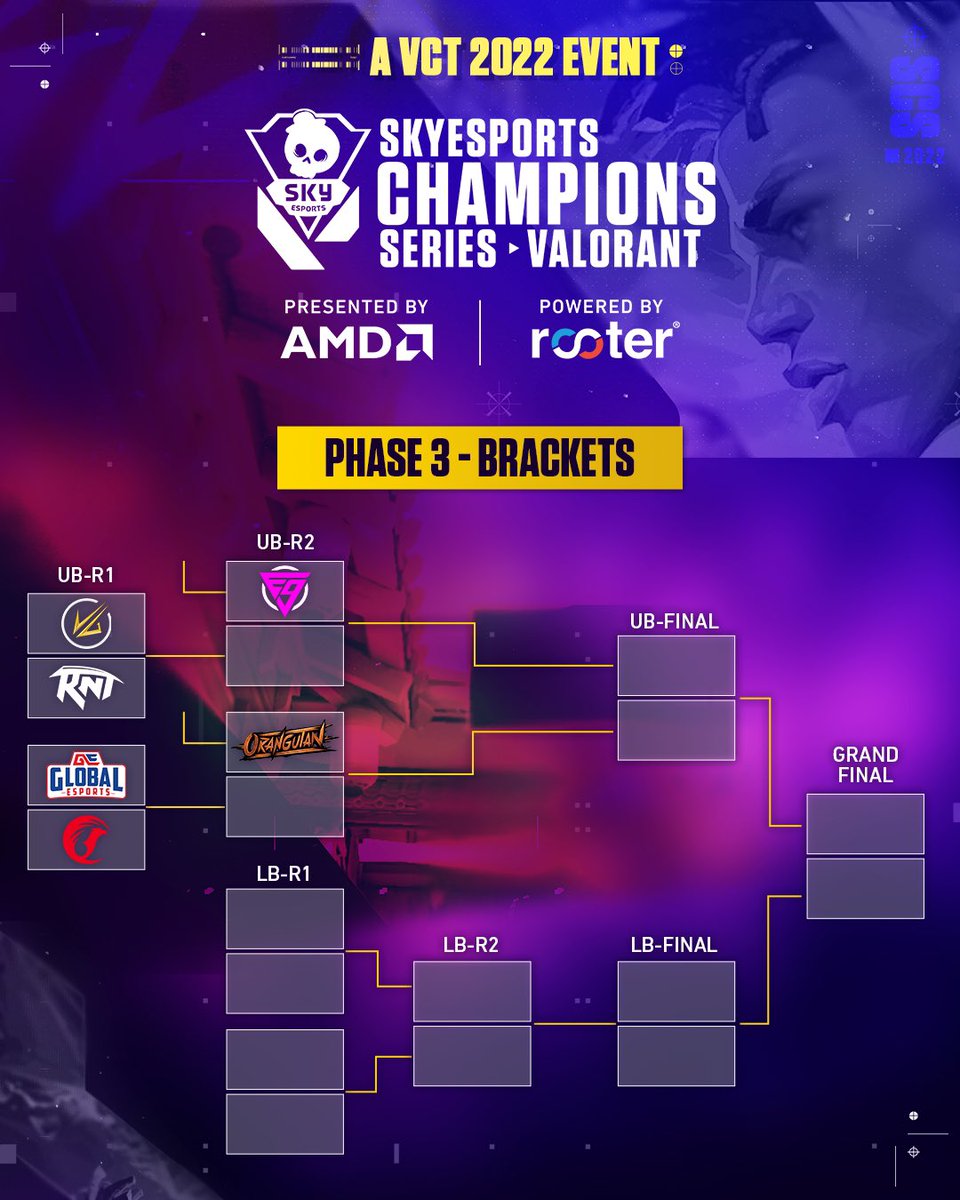 WHERE TO WATCH
The Skyesports Champions Series, which is a hybrid of an online and offline event, will be live-streamed in Hindi and English on YouTube, Rooter, and Twitch.
Read More: Skyesports Released SCS 22 Music Video "South Asia Arise" Featuring India's Biggest Valorant Pros