Rockstar Games Officially Confirmed that GTA 6 is Under Development: GTA players are finally feeling comfortable and supported after spamming Rockstar Games' social media responses with questions about when the next Grand Theft Auto game will be released, now that GTA 6 has been confirmed. Everyone already knew it was in the works, but Rockstar has finally confirmed it. Even though the name hasn't been confirmed, people are simply referring to it as GTA 6 for the time being, the mere mention of the game is enough to get GTA fans excited for what's to come.
The new post, simply titled "Grand Theft Auto Community Update," covers a lot of GTA news, including more information on how GTA Online will evolve on next-gen consoles and features to look forward to in the new GTA V ports that will be released in March. It sounds promising, and the visual upgrades are excellent.
Rockstar Games Officially Confirmed that GTA 6 is Under Development
We'd like to take this opportunity to thank everyone in the GTA Online community for playing with us across 2021.

As we enter our third console generation and with much more to come in 2022 and beyond, here is a look at just some of what's on the way. https://t.co/8KbrCRSBc2 pic.twitter.com/ia0WAnKPhR

— Rockstar Games (@RockstarGames) February 4, 2022
The big news, however, was discovered all the way at the end. Rockstar Games has officially confirmed that the next installment of the Grand Theft Auto franchise is currently in development. And, while Rockstar hasn't revealed any specifics about the game, we are sure many people will be relieved to know it exists.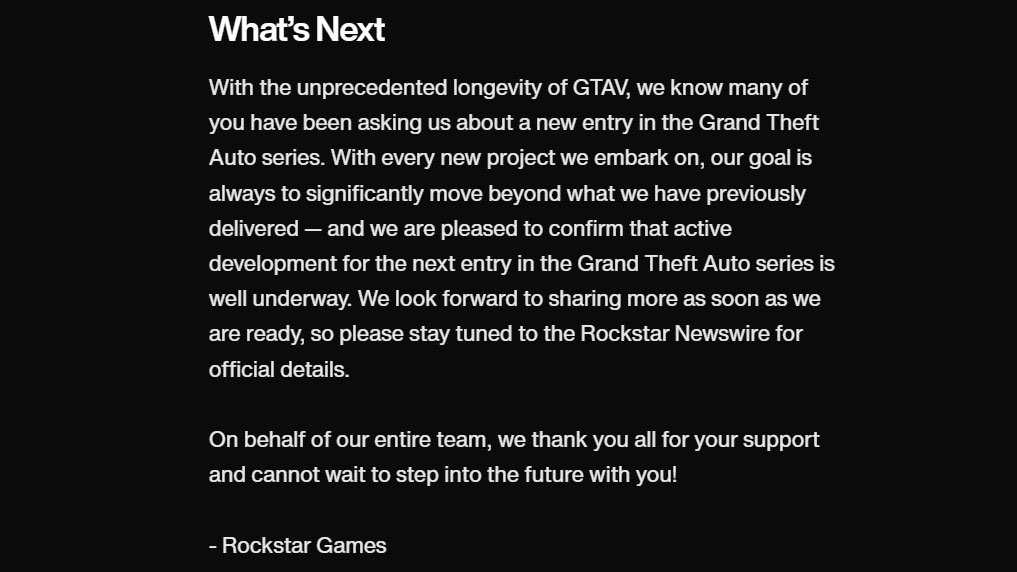 It's no surprise that Rockstar is working on a new Grand Theft Auto, as the studio has been working on the game for quite some time. The fact that GTA V and GTA Online are still selling so well this late in their lives (the base game has sold 155 million copies) has led some to believe that the next proper entry will not be released anytime soon. The game will be released in March for the PS5 and Xbox Series X|S, as well as a standalone edition of GTA Online.
We don't know when the next GTA will be released, and neither Rockstar nor parent company Take-Two has given us a firm date. However, some analysts believe it will be available as early as 2023.
Read More: PlayStation 5 Plus Members can grab GTA Online Free for Three Months