PMCO 2022 Spring Important Dates Revealed: Know Schedule and Prize pool: PUBG MOBILE has released the registration information for the PUBG MOBILE Club Open (PMCO) Spring, whose registration will take place from March 31st to April 13th 2022. The PMCO has converted to a regional amateur and semi-pro competition for 2022, with teams competing across six areas for a total prize pool of $600,000 USD. The schedule for the PUBG Mobile Club Open 2022 Spring Season is as follows. PUBG Mobile Club Open 2022 Spring Season PMCO 2O22 Schedule. Grand finals to be take place in June of this year for different regions.
🥳BOOM News!! Here comes our PMCO calendar!!📅
Squad up and catch the opportunity to win this big prize pool. Make your Esports dreams come true!!

🔥Register Now 👉 https://t.co/cG9LqLOzd9
Join our Discord for support 👉 https://t.co/9DWKS5xSMY#PUBGMOBILE #PMCO pic.twitter.com/TF3GyrgENn

— PUBG MOBILE Esports (@EsportsPUBGM) April 1, 2022
PMCO 2022: Important Dates
, PMCO 2022 Dates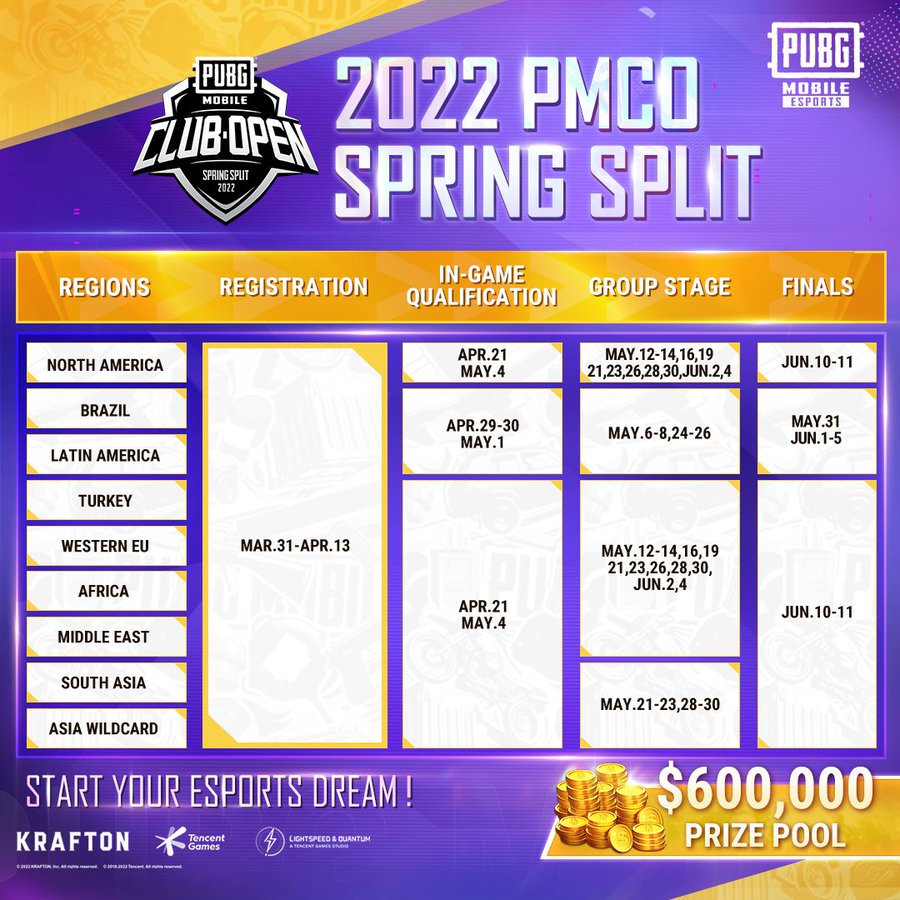 For 2022 the PMCO has switched to a regional amateur and semi-pro competition with teams eligible to compete across six regions. PMCO's top teams will compete in the PUBG Mobile National Championship/PMNC Regional Cup. Tencent intends to hold a national championship and a regional cup in 11 nations and eight regions. These national and regional championships will serve as a warm-up for the Pro Leagues' 2023 season. There are no longer country level regions but instead 170 countries will be represented across: PMCO 2022 Schedule
PMCO North America
PMCO South America (PMCO Brazil and PMCO Latin America)
PMCO Africa,
PMCO Middle East
PMCO Asia (PMCO South Asia and Asia Wildcard) and
PMCO Europe (PMCO Western Europe and PMCO Turkey)
Alongside the new regions, a new structure has been implemented to allow a wider range of competitions to feed into the PUBG MOBILE Pro Leagues (PMPL). PMCO teams will no longer be promoted directly to PMPL but instead, compete through PUBG MOBILE National Championship or PMNC Regional Cup with a chance to reach PMPL in 2023.  The Spring season of the PUBG Mobile Pro League (PMPL) is now underway in numerous territories. PMPL's top teams will advance to their regional tournament.
HOW TO REGISTER for PMCO 2022
To get started, go to this website and fill out the form.
Tap the Registration banner and read the prerequisites and terms and conditions before registering.
Enter your team's name and player information, such as name, email address, character ID, nationality, and so on.
Finally, press the Submit button.
Read More: BMOC- The Grind: Overall Standing After Day 2 and Match Highlights