SuperGaming is developing India's very own futuristic Battle Royale game, Indus – In mobile gaming, battle royale has emerged as the most popular genre. Famous titles like Call of Duty Mobile, PUBG: New State, Battlegrounds Mobile India, and Apex Legends Mobile dominate this ecosystem. Most of these games have been produced and developed by international studios. But a Pune-based Indian gaming studio is planning on entering this segment with its own take on the genre.
We are talking about Indus, a futuristic battle royale being developed by SuperGaming.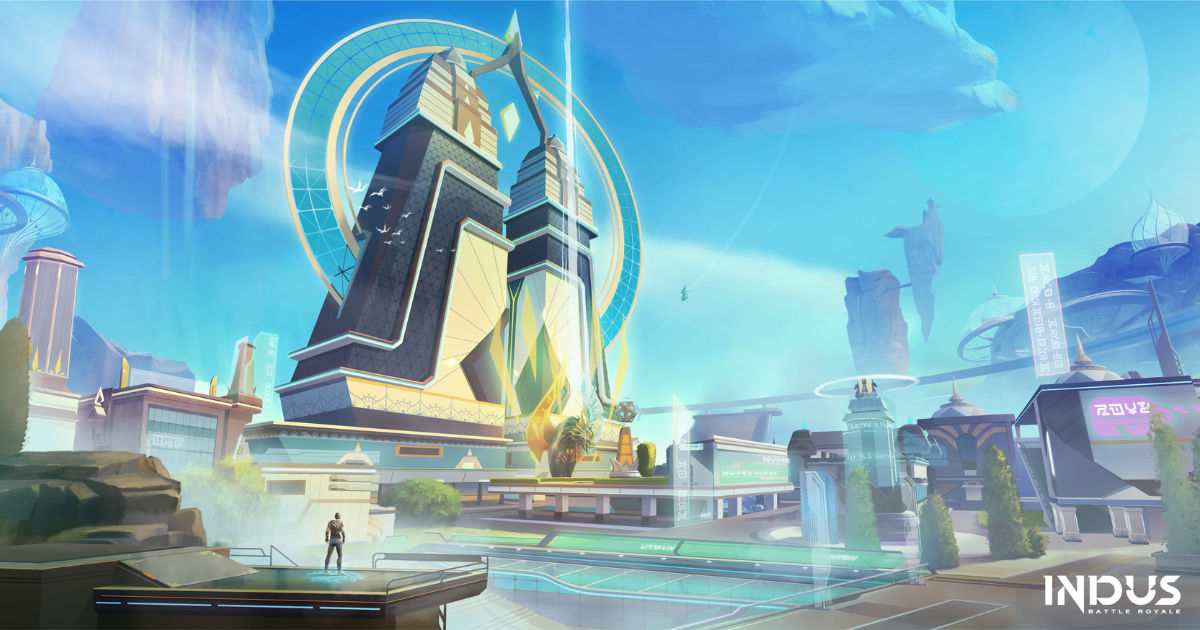 Indus Battle Royale Game: Game Lore
This game is set in the distant future where players will have to explore the origins of the planet Indus. This planet is said to be the home to the Yaksha, an ancient race that was the first ever intergalactic explorers.
Players will be jumping into the game as a 'Mythwalker'. They are hunters looking for a rare resource called 'Cosmium'. It is believed that this resource was the key to Yaksha's advanced civilization. But an unknown tragedy befell the Yaksha and the Indus planet was permanently covered by a mysterious mist-looking thing called 'Nirvana'.
Many years later, an intergalactic stronghold called COVEN has gained access to one of Indus's last remaining portals. It leads the travelers to a belt of mysterious floating islands slightly above the cover of Nirvana. These islands are known as 'Virlolk' and are said to have Cosmium on them. It will be the first place that players will visit in the game.
Despite this discovery, Virlok is still uninhabitable as no organic matter can survive the place due to the presence of Nirvana. This is where the Mythwalkers come in. They control artificial bodies/androids that can enter the place without dying.
Also Read: Warzone 2: Call of Duty Pro leaks gameplay and map details of the upcoming game
Gameplay and Design
As the game is termed as an "Indo-Futuristic Battle Royale", we are bound to find a lot of elements that are common in this genre. Even the lore suggests that the gameplay might be similar to its other counterparts.
Thus, Mythwalkers will be dropped on Virlok where they have to collect Cosmium and keep their distance from the mysterious foggy Nirvana. If we inspect the screenshots provided to us by SuperGaming, the game's graphics and features seem to be inspired by our country's historic cultural origins.
The first trailer for Indus was showcased in Times Square in New York on Aug. 15, India's Independence Day.
Roby John, CEO of SuperGaming said, "Indus is at a stage where within the development team, we are able to play it in-house regularly. While there's still some work to be done before we can bring Indus to all of you, this trailer shows what we're crafting to match your expectations and our ambition of putting India on the global gaming map."
Indus: Community Playtest
SuperGaming studio conducted a community playtest for the game earlier this month on Aug. 6. Out of all the registered candidates, 25 were selected to take part in this test. Even popular streamer and pro-gamer Mortal got invited to the community test.
Everyone tried out the game and provided crucial feedback to the game developers. These inputs will help them to make the game better and more engaging before its launch.
More clips from our first community playtest.

Thank you @Mortal04907880 for giving us great feedback to work with. #IndusPlaytest #IndusGame #GameDev #MadeinIndia pic.twitter.com/ZaHZWomTMZ

— Indus Game (@IndusGame) August 11, 2022
According to the developers, Indus still has various underlying issues in terms of its core gameplay. It will take time to fix all of them and make the game ready for release across console, PC, and mobile devices.
Indus Battle Royale Game: Release Date and Supported Platforms
SuperGaming has not yet confirmed any release date for the Battle Royale Indus. But, it is expected that the game will be available for pre-registration for mobile devices on Google PlayStore and Apple's App Store by the end of this year.
The developers have also stated that this battle royale game will also be available for PC and console. Whether it will feature cross-play or not is yet to be confirmed.
Stay tuned with us if you want to get news regarding upcoming and the latest released games on PC, console, or mobile platforms.
Read More– Epic Cricket x Dolby Atmos Collaboration to Provide Breakthrough Mobile Cricket Gaming Experience