Brawl Stars World Finals 2022 Day 2 Results- The second-day Brawl Stars World finals concluded with all 8 teams decided for the quarter-final stage. Here are the day 2 information and results of Brawl Stars World finals 2022. The fourth edition of Brawl Stars World Finals is being taken place in Disneyland Paris from 25th to 27th November 2022. After a long wait of about two years, the developer finally wants fans to watch the exciting contest at a venue. Developer Supercell has set aside a total prize pool of $500,000 for the event, but it could be increased to $1 million through crowdfunding.
Brawl Stars World Finals is the final event and the World Championship of the 2022 Competitive Season organized by Supercell. Qualified are the best teams throughout global qualification across the year. The teams were formally announced in the teaser trailer. The bracket was announced by Ark on 26th October 2022.
8 teams left, but only one can win 🫡

Tune in at 2pm CET and join in the culmination of 2022!https://t.co/goxBEk2HEr#BSWF22 pic.twitter.com/zzh6QMfUal

— Brawl Stars Esports (@Brawl_esports) November 26, 2022
Round of 16 days 2 Results
Tribe Gaming EU(3) vs. Zest(0)
Zeta Division Zero(3) vs. Chasmac Gaming BR(2)
Tribe Gaming(3) vs. NaVi(0)
Reconic Esports(0) vs. SK Gaming(3)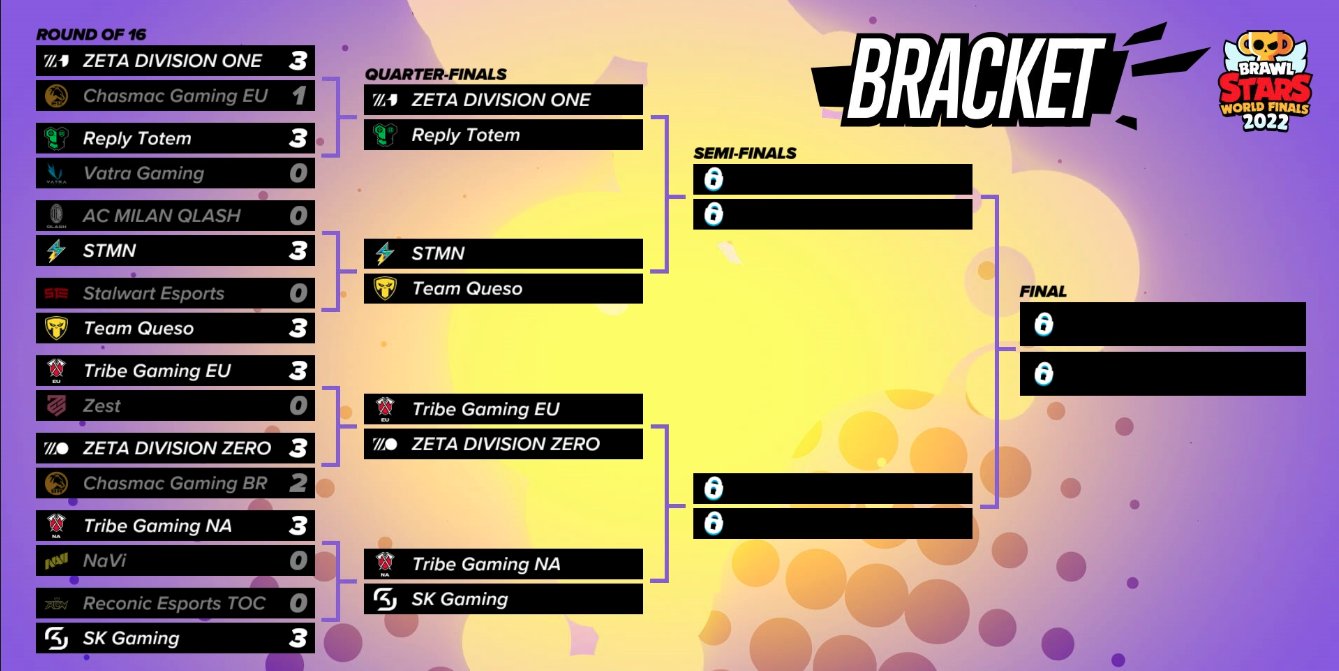 Quarter-final matches FOR day 3
Zeta division One vs Totem Esports
STMM Esports vs Team Queso
Tribe Gaming EU vs Zeta division zero
Tribe Gaming vs Sk Gaming
WHERE TO WATCH THE BRAWL STARS WORLDS FINALS DAY 3
Although we have finished with Day 2 of the Brawl Stars Worlds Finals, there are still a lot of activities available on Day 3 as eight qualified teams will fight for the semi-finals. Fans can catch the broadcast LIVE on the Brawl Stars Esports YouTube channel or the Brawl Stars Twitch channel.
Read More: FFWS 2022 Bangkok Grand Finals Redeem Codes: Check out the redeem codes of Free Fire World Series 2022 Bangkok Grand Finals