The qualifiers for "BMOC The Grind," a BGMI practise scrim, have ended for Day 2. Team Soul, a fan favourite, topped the overall table with 50 kills and 104 points. Team XO dropped to second position with 96 points, but Hyderabad Hydras remained in third place with their solid play. BMOC The Grind, an action-packed official scrim, began yesterday. In the Qualifiers, a total of 32 teams are competing for 24 league stage spots. From 5 p.m. IST onwards, Day 2 will be live-streamed on the official BGMI channel. In the Qualifiers, each team will play a total of 12 matches over the course of four days.
True Rippers Esports won the first match of the day, which was played between Group C and D, with 14 frags. Revenge Esports came out on top with four frags in the second match of the day. TSM won the third match between Group B and C by a score of 14 kills. OR Esports finished in second place with eight kills. With 16 kills in the fourth match of the day, Team Soul went insane, with five kills each from Akshat and Goblin. With eight frags, Team Mayhem won the fifth match of the day. With 12 kills, the Chicken Rushers won the sixth match. Soul put in a strong performance to finish second with five kills.
Overall Standing After Day 2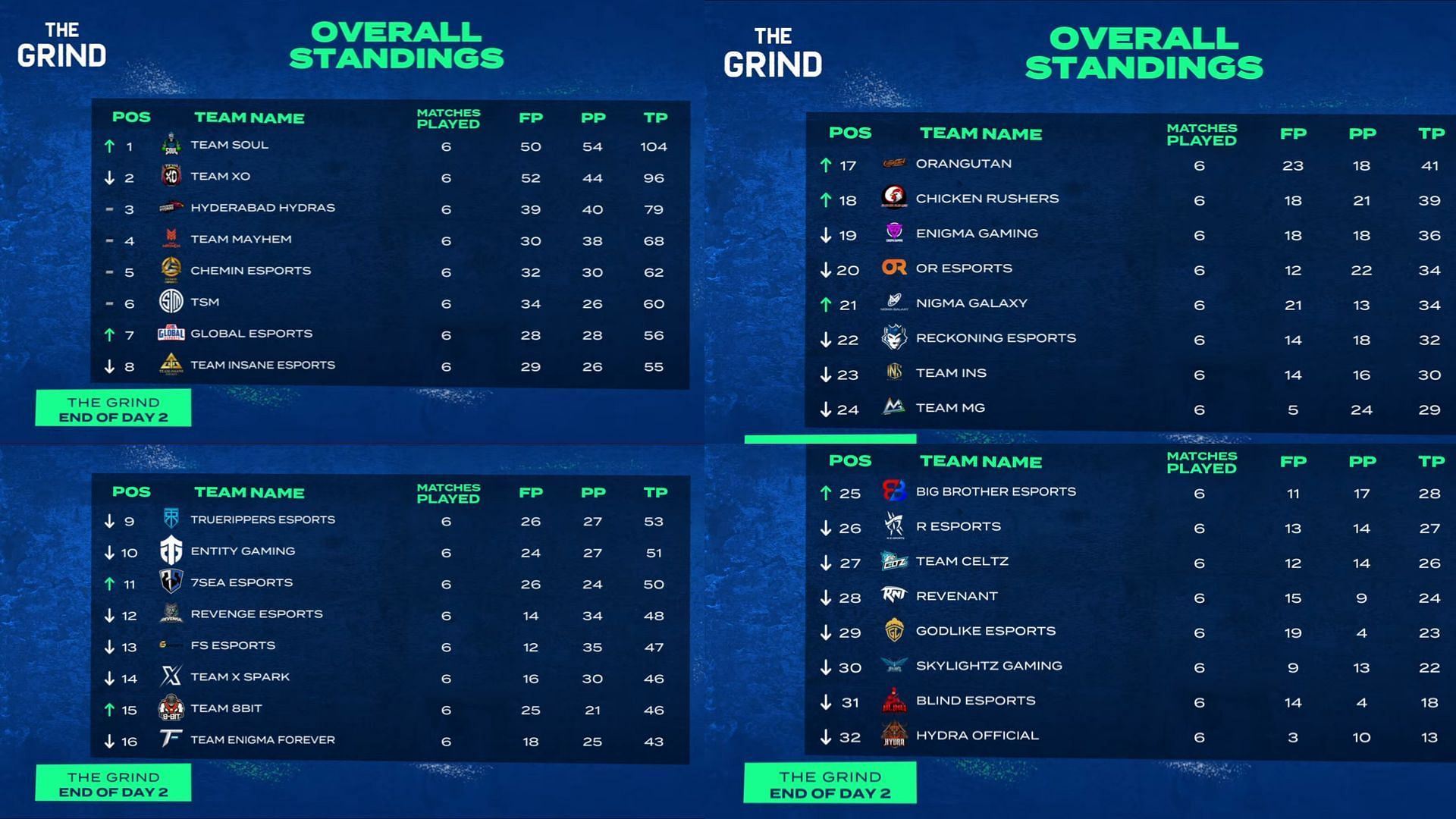 The Third day of Qualifiers will be vital for the worst teams, with only six matches remaining. The league stage will be contested by the top 24 teams. The total prize money of BATTLEGROUNDS MOBILE INDIA OPEN CHALLENGE – THE GRIND is 3,15,000 INR prize pool, and Distributed following the team's overall placement. The top 16 teams from the League stage will be playing 24 matches over 4 days in the Grands Finals. The team on the top of the overall standings will be declared the Winner of BATTLEGROUNDS MOBILE INDIA OPEN CHALLENGE: THE GRIND.
Read More: New State Mobile has released an optional update for iOS device players