BMOC The Grind Finals: Orangutan Gaming is Champion, See Overall Standing and MVPs: After 4 intense days of action, Battlegrounds Mobile Open Challenge The Grind has finally won by Orangutan Gaming. The team gained the lead on the first day and didn't relinquish it until the very last match. Orangutan scored 266 points with the help of three chicken meals. The team was also the most aggressive in the event, with 138 kills. In the remaining three encounters, Team Soul secured the second position in the overall standings with 109 kills and 247 points. Orangutan Gaming Champion
With a decent lead at the end, Orangutan Esports won a total of $150,000, but Team Soul had one of the most spectacular performances in the competition. In just six matches, Soul climbed from sixth to second place.
Here are Mapwise Standings for day4:
Team Nigma won the first match of the day with 9 finishes at Erangel. Team XO came in second by 9 frags, and Team Mayhem came in third with only 5 frags.
Team Nigma Galaxy and Team Skylightz tied for second place with 6 and 7 frags, respectively, in the second Miramar match.
TSM dominated the third match in Sanhok, racking up an incredible 18 finishes. With 6 frags, Team Orangutan came in second, followed by Team Hyderabad Hydras in third with 7 finishes. With seven finishes, Ninjajod was named MVP.
Team XSpark won the fourth match of the day, Erangel X, with a score of 9 to 10, with Soul finishing second with ten finishes. With four finishes, Team Nigma Galaxy took third place, with Mavi claiming MVP with six frags in the fourth match.
Chemin won the fifth match of the day with 14 and 7 finishes, respectively, at Miramar. By four frags, Team Godlike came in second, followed by all-time favourite team Soul in third.
With a total of 16 enormous finishes, Team Soul won the sixth and final match of the day at Erangel, while OR came in second with 13 finishes. Team X Spark takes third place out of only three teams.
BMOC The Grind Finals OVERALL STANDINGS:
MVP Leaderboards:
The MVP award was given to the top player in the event, and Ninja from TSM India won it after demonstrating that he is among India's top-rated players. The following are the top five players in BMOC: The Grind.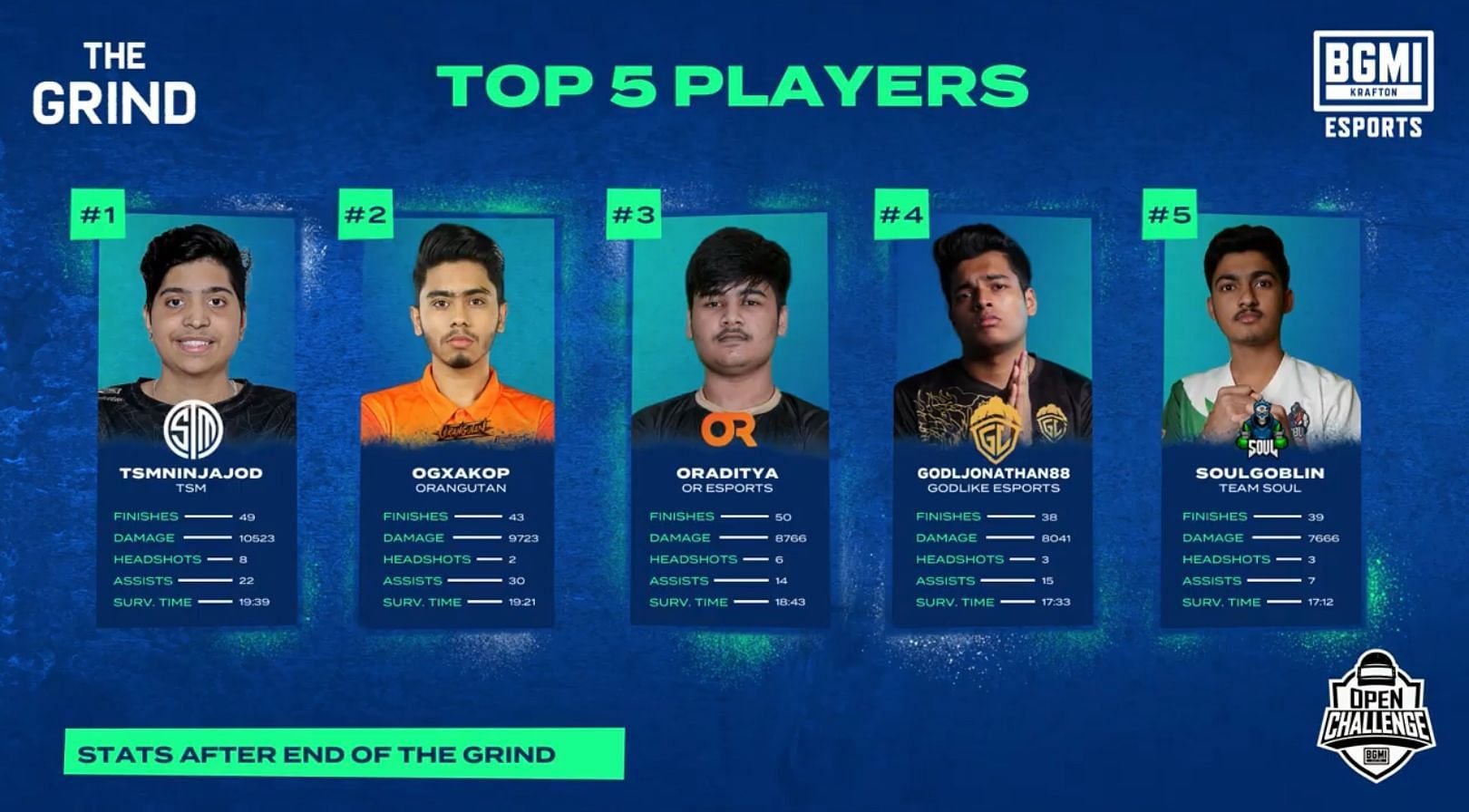 Read More: 2022 Season of ClashMSTRS has been announced with a $50,000 total prize pool