The third week of the BGMI Masters Series 2022 has ended today with the top 24 teams fighting in the Qualifiers, Each team will play eight matches throughout the qualifying round's 12 matchups. Three matches will be played each day amongst the 24 players, who will be divided into three groups of eight teams. At the end of week 3 day 1, Orangutan secured the first position in overall standings by 20 finishes and 30 placement points in three matches followed by Chemin and Team OR for the second and third position by 39 and 29 overall points. Following teams and schedule took place for day 1 week 3: BGMI Masters Series Points Table
Group A
Team XO
Chemin Esports
Skylightz Gaming
Team Insane
Blind Esports
Hydra Esports
Team Enigma Forever
TSM
Group B
Orangutan
OR Esports
Revenant
Team X Spark
Marcos Gaming
FS Esports
Hyderabad Hydras
Global Esports
Group C
Team Soul
8Bit
Rivalry
Team GodLike
Nigma Galaxy
Enigma Gaming
7Sea Esports
R Esports
mapwise highlights:
In Erangel Orangutan won the first match of the day contested between A and B by 12 finishes, while OR esports came in the second position with 11 finishes. XO was able to secure third place with 4 finishes.
In the second match of Miramar, played between group A and B, Chemin esports was able to secure the first position with 12 frags, followed by Blind esports and TSM by 7 and 5 frags. Destro was named as MVP by massive 5 frags.
Orangutan won the third match in Sanhok played between B and C, with 7 finishes. 7seas eSports secured the second position with 7 frags. followed by Team Marcos gaming by 8 finishes for third place. Sarang was named MVP by 5 finishes.
overall standings after week 3 day 1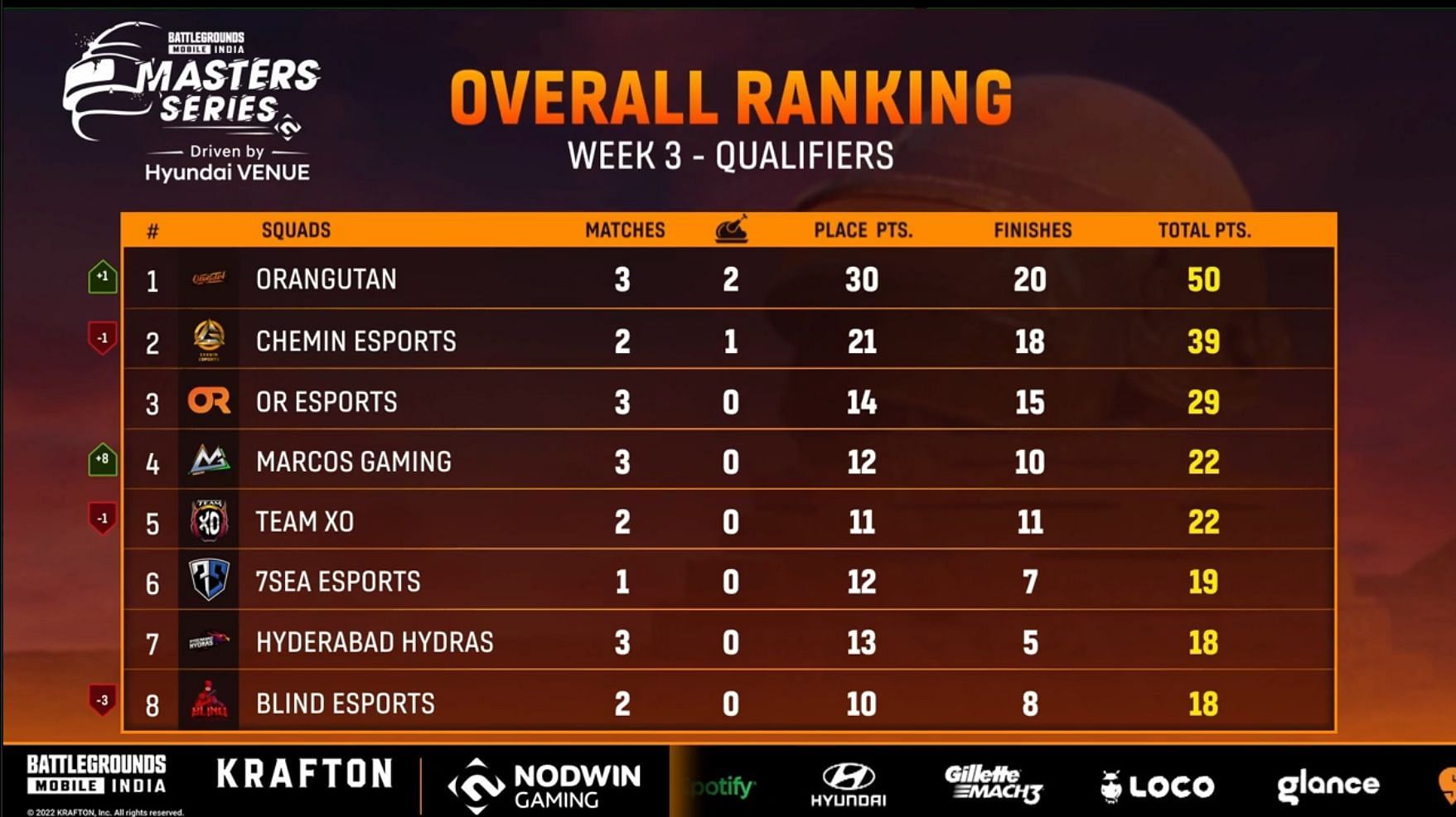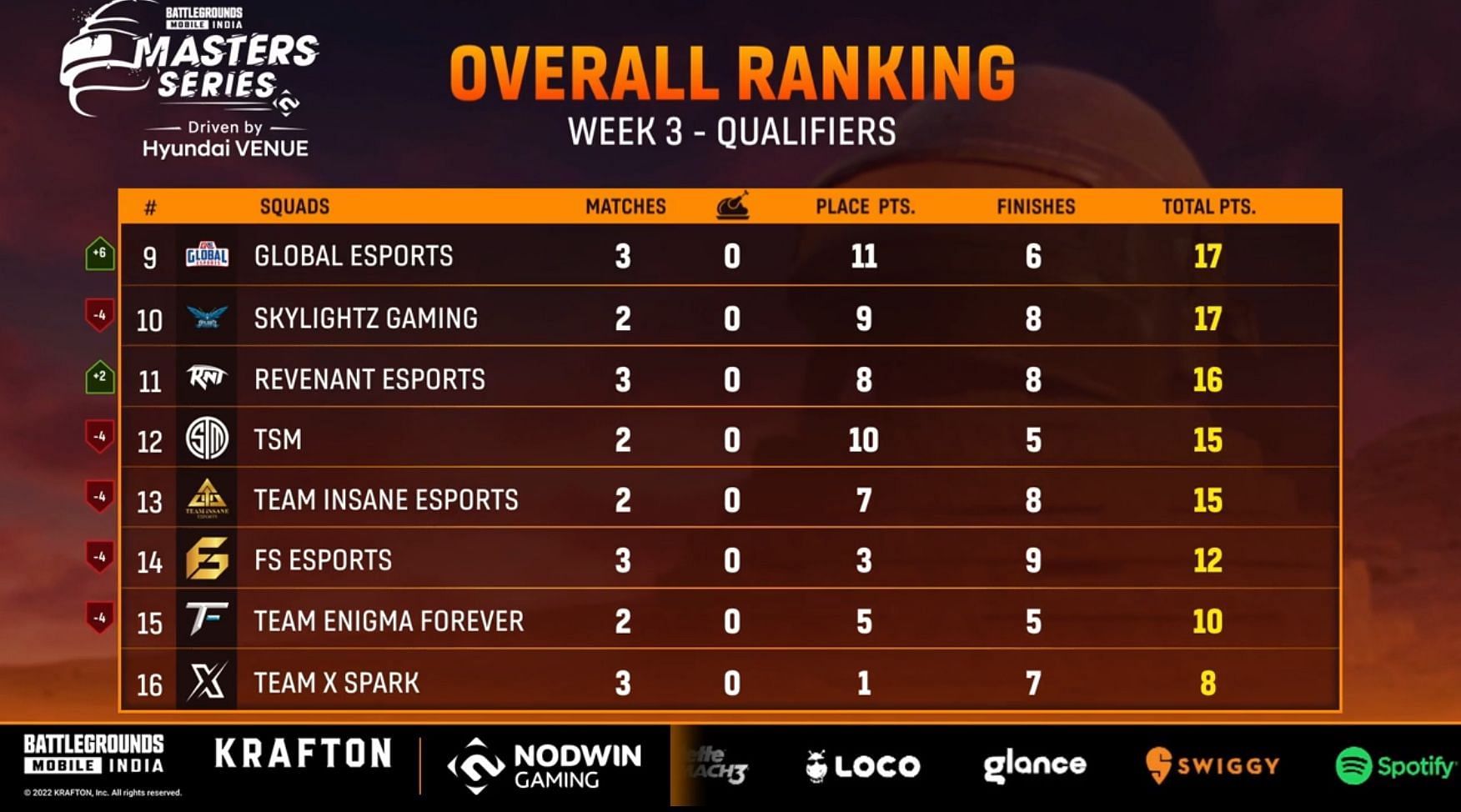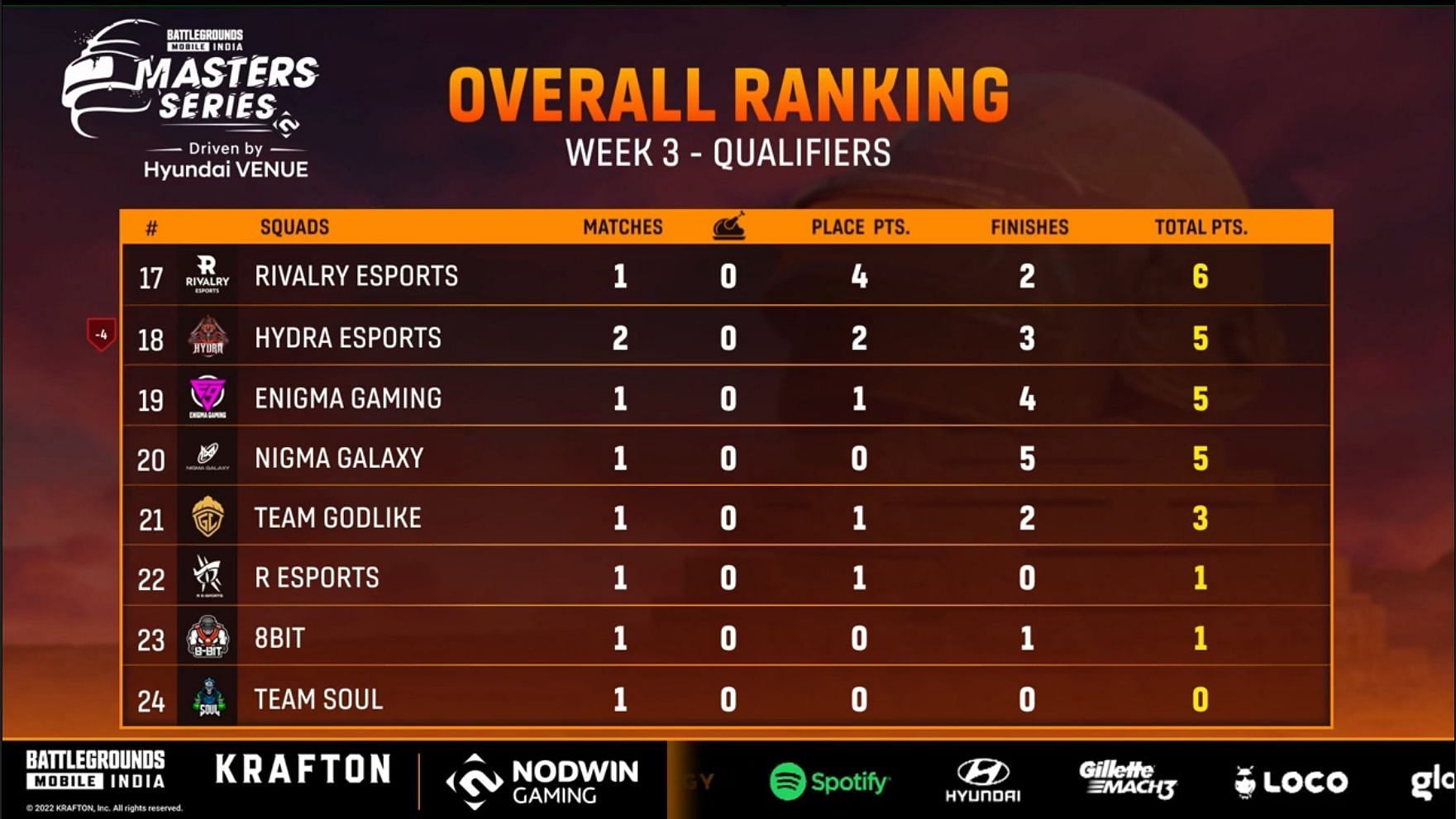 The third week's qualifications will be live-streamed on Star Sports 2, LOCO, and Galance from 8 p.m. IST to 10.30 p.m. IST. The week 3 qualifiers will take place till 7th July 2022. The top 16 teams based on the overall standings of qualifiers will move to week 3 finals. BGMI Masters Series Points Table
Read More: BGMI Masters Series Week 2 Finals: Know Prize pool and Awards Distribution in Various Categories