Government of India launches Heroes of Bharat and Match 3 Puzzle under Azadi Quest Games- Shri Anurag Thakur, the current Union Minister from the Ministry of Information & Broadcasting, has launched 'Azadi Quest'. Under the Azadi Ka Amrit Mahotsav campaign, it is a series of online educational games that are based on India's freedom struggle.
There are two games currently in this series, Azadi Quest: Match 3 Puzzle and Azadi Quest: Heroes of Bharat. According to the press release, this initiative has been inspired by our Prime Minister's vision of 'Engage, Entertain, and Educate' the people through entertaining mediums like toys and games.
During the press release, Shri Anurag Thakur said, "These games are an effort to tap into the huge market of online gamers and to educate them through games. Various arms of Government of India have collected information about unsung freedom fighters from the corners of the country. Azadi Quest is an effort to make this learning of this knowledge engaging and interactive."
Delighted to launch #Azadiquest games marking India's #amritmahotsav !

These mobile games are designed to engage, entertain and educate the people about the glorious history of India's freedom.

Check it out 👇🏼

Download & Play Now: https://t.co/VVmrflTN1E pic.twitter.com/KGMf2Tkey5

— Anurag Thakur (@ianuragthakur) August 24, 2022
The Union Minister also spoke about the rising AVGC sector in India. He added that with support from the government, India has risen to stand among the top 5 countries in the gaming sector. Its gaming sector grew by 21 percent in 2021 while the number of online gamers rose by 8 percent from 2020 to 2021.
The Publications Division and Zynga India have signed an MoU to mark a year-long partnership commemorating 'Azadi Ka Amrit Mahotsav' through this series of mobile games.
On this occasion, Shri Kishore Kichli, the Country Head of Zynga India, said, "Tthe path to independence commemorates a transformative milestone in India's history and we are proud to be a part of this important national effort to honor India's past. Our mission at Zynga is to connect people through games. This initiative is designed to engage players of all ages while harnessing the power of interactive entertainment as a teaching experience about this important era."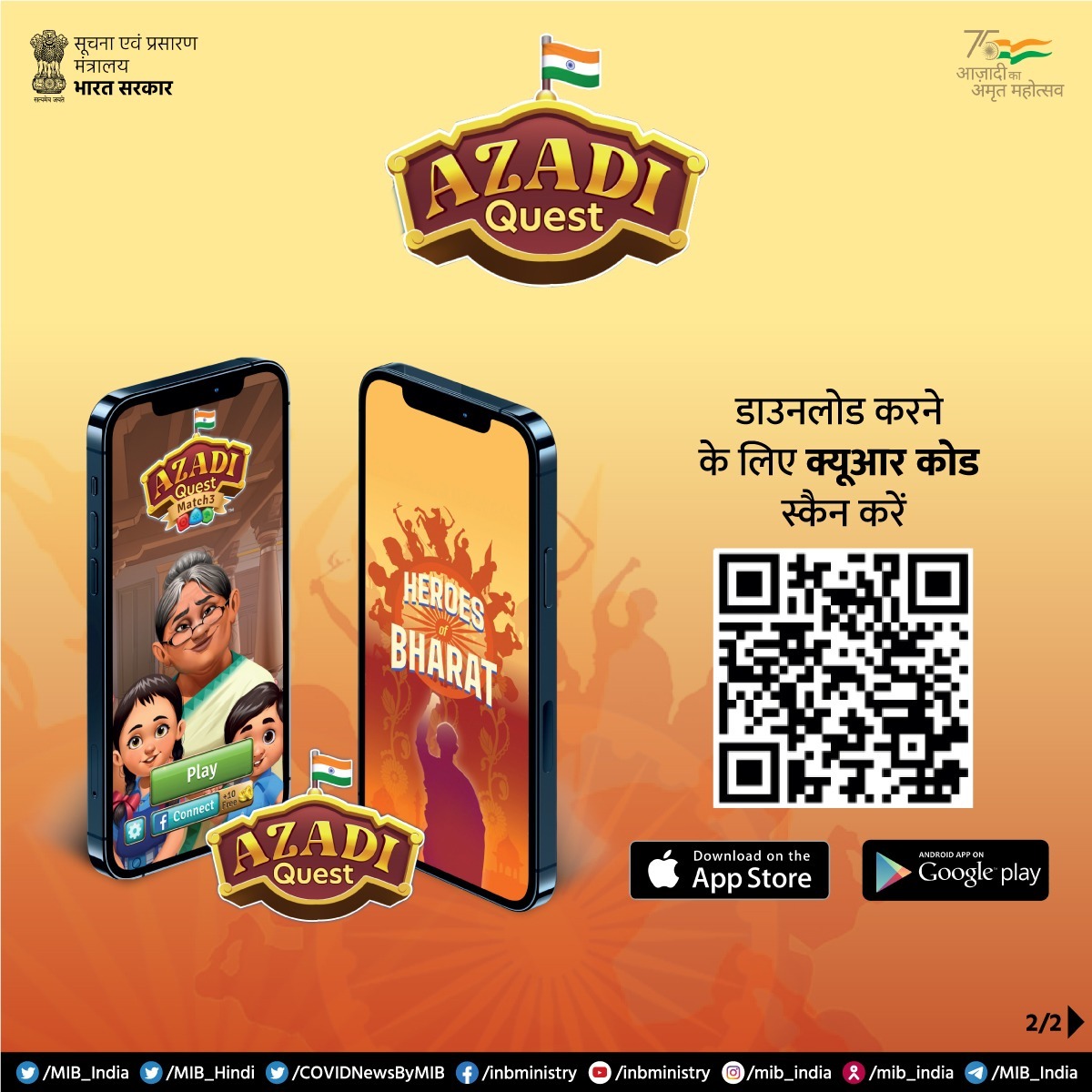 Let us take a look at both these games that are now available in Google PlayStore.
Azadi Quest: Heroes of Bharat
This game allows you to quiz yourself on the unsung Heroes of India's Independence. You can test your patriotic knowledge of the history of India, and the greatest of heroes who made that history happen. It helps people recognize the unhailed or unfairly forgotten warriors, tacticians, and martyrs.
Azadi Quest: Match 3 Puzzle
This is a matching puzzle game that will also educate the players about the historic, inspirational journey of India's freedom from 1857 to all the way to 1947. Join Dadi, Chotu, and Rekha as they talk about India's history and conquer hundreds of levels featuring challenging puzzles.
Download Links –
Heroes of Bharat – Click Here 
Match 3 Puzzle – Click Here
Stay tuned with us to get more such latest updates and news regarding mobile games.
Read More– PUBG Mobile 2.2 Update: Check C3S8 Tier Rewards and 2 New Characters Coming in Next Update